I've been reading about the potential impact of artificial intelligence (AI) on teaching and learning for some time. A close family friend gave me a book entitled In the Mind of the Machine by Ken Warwick in 1998. The Education Horizon Report Advisory Committee, of which I was a member, first listed artificial intelligence as an emerging technology likely to have an impact on learning, teaching, and creative inquiry in education in 2017. November 2022 brought the long-anticipated arrival of ChatGPT beta with accompanying media attention.
What is OpenAI and ChatGPT?
OpenAI is an artificial intelligence research lab. Open AI developed a chatbot called ChatGPT (GPT = Generative Pre-trained Transformer) and an image generation

application DALL-E 2. ChatGPT is a natural language processing model that is trained on hundreds of billions of documents and websites. Users can interact by asking it questions or submitting statements to which it can generate responses.  For example, here is ChatGPT answering a question about itself:
Prompt: What is ChatGPT?
"ChatGPT is a large language model developed by OpenAI. It is trained on a diverse range of internet text and is able to generate human-like text in response to various prompts. The model can be fine-tuned for various natural language processing tasks such as language translation, question answering, and conversation."
While ChatGPT received most of the media attention in winter 2022-23, there are other chatbots that exist like Jasper and Chincilla.
What are the main concerns?
The main concern for instructors is students asking OpenAI applications to complete assignments for them. This includes writing essays or research papers along with coding assignments for which ChatGPT is trained. Students can also ask ChatGPT to answer test questions.
Things to Consider
While the capabilities of artificial intelligence applications will continue to evolve, there are currently some limitations. For example, current models do not include articles behind paywalls (e.g., subscription journals). This makes it harder for students to generate essays based on peer-reviewed research.  While the models are trained on a large number of documents, the applications' responses to specific, focused inquiries tend to be vague.  My colleagues and I asked ChatGPT to write a strategic plan for the Center for Teaching Excellence and Innovation. It suggested relevant ideas, but it was generic and too broad to be useful. That said, we could have used it as a starting point for brainstorming a draft.
Some applications, like Turnitin, are claiming they can detect if students used ChatGPT, but like any technology, these applications are not perfect and students can work around them (e.g., editing the essay produced to make it closer to their own writing style).
 Academic Integrity
Use of OpenAI applications can fall under academic integrity policies like plagiarism, but the gray zone between clearly plagiarized work and an academic support tool is large. For example, most instructors would consider it plagiarism for students to ask ChatGPT to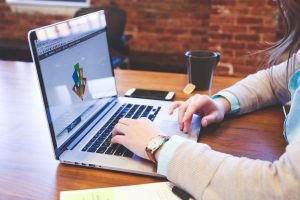 write a paper based on a writing prompt from class. But is it OK for students to ask ChatGPT for a summary of research on a topic, which they then use to generate a bibliography as the basis for a research paper they write?  Instructors should learn more about how ChatGPT and other AI technologies work so they can inform students what is considered appropriate use of AI technologies and what is not. Here are additional strategies to consider to help you and your students navigate this new territory:
Scaffold the activity by asking students to turn in an outline and iterative drafts that address comments and feedback from the instructor or teaching assistants. This requires students to show progression in a way that is difficult for tools like ChatGPT to produce.
Ask students to write papers using a shared Microsoft document through One Drive so you can see the version history.
Use writing prompts that are more specific or require students to cite specific texts.
Use AI tools to teach students. For example, generate essays in ChatGPT and have students critique them.
Discuss with students what is considered acceptable use of AI technologies (e.g., generating a summary of a field) and what is not (e.g., responding to a specific assignment prompt).
A colleague also commented that as we engage with ChatGPT and other AI technologies, we are feeding it data it can use to improve its models. They own the submissions as part of the terms of agreement when accounts are created. Explain to students that they may be giving over their intellectual property if they are using these tools.  If they submit your tests for ChatGPT to answer, they may be violating your intellectual property rights.
Where to Learn More
 Here are some resources to learn more about AI technologies:
We are all orienting ourselves to this new technology and best practices are evolving. The CTEI will continue to share more information and host discussions over the semester.
Mike Reese
Mike Reese is Associate Dean of the Center for Teaching Excellence and Innovation and associate teaching professor in Sociology.
Image Source: OpenAI Logo, Pixabay