On Tuesday, November 8th, the Center for Teaching Excellence and Innovation (CTEI) hosted a discussion on re-engaging students for the fall semester. At faculty request, this discussion was a continuation of one initially held in August, when participants explored the challenges they faced with the return to in-person teaching in Spring semester 2022. During that session, faculty offered potential ways to address disengagement in a student population who reported high levels of "stress, fatigue, and anxiety" in a post-pandemic world.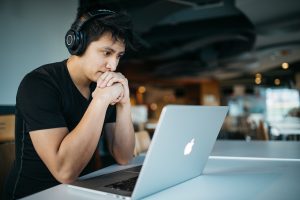 This phenomenon has been noted in many media outlets, including The Chronicle of Higher Education, which recently hosted a webinar on addressing student disengagement and summarized it in a follow-up article. Mike Reese, Associate Dean and Director of the CTEI, moderated the conversation.  
The session kicked-off with instructors offering their general sense about how student engagement in their Fall courses compared to their Spring courses. The overall assessment was that problems remained, though there were some bright spots:  
One instructor noted that attendance in his course's Friday session, led by teaching assistants, was down almost 50% in the recent week.

 

Another noted that Fall was "a little bit" better than Spring, when she was still teaching online via Zoom, but she continued to observe a lot of "struggle" among her students, exacerbated by a lack of knowledge of how to address it. 

 

One participant, who regularly polled his students on their overall well-being on a scale from one to five with five being the highest score, said he was seeing a lot of ones and twos among his students. However, he started this practice during the pandemic so he didn't have any pre-pandemic data to baseline the response. 

 

A fourth participant had observed that her students' behavior was better, but they also had large gaps in their subject-matter knowledge due to the instructional disruptions incurred by the pandemic.

 
Time management issues quickly became the dominant topic when one faculty member pointed out that this was a particular problem for his students. Other participants also offered examples of students struggling with time management; one faculty member said that she had received a lot of requests for extensions from students who admitted these were due to poor time management, and another said that she observed an all-senior class – usually a population with a good sense of time management –also contending with this issue.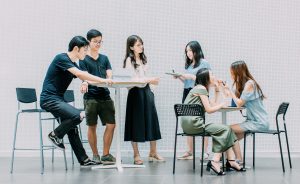 The reason for this, attendees speculated, may have to do with the full return to on-site courses and residential campus life. Students may be excited to dive back into campus life, trying to take advantage of opportunities, like lab-based research, not available during the pandemic, and becoming over-committed as a result. Another reason offered was that the time management skills needed to negotiate pandemic life and instruction needed to be re-adjusted for more typical university life.   
The post-pandemic gap in content-specific knowledge, particularly in the STEM disciplines, has prompted some academic programs to start looking at ways to make changes to their large introductory or gateway courses. One participant said her program was looking to make data-based adjustments informed by placement tests, in-person attendance at office hours, and data from Canvas classrooms and learning-support software, such as ALEKS. 
As a group, the participants generated several useful ideas to enhance engagement in both large lecture-style courses and smaller seminar courses:  
Increasing structure for small-group discussions in large classrooms:

One instructor had added question prompts and a pre-identified spokesperson to her small-group break-out discussions to increase student focus, participation, and output during these sessions. 

 

Flipping one class meeting a week to start homework:

Another instructor had flipped one class meeting a week to provide students with a pre-determined timeslot in which to start their homework each week and receive real-time instructional feedback. This helped students with time management and on-time completion of the homework. 

 

Requiring a one-to-one meeting outside class:

An attendee required that seminar students meet with him one-on-one at least once outside of class, which helped build relationships and comfort with class participation. 

 

Requiring student socialization outside class

: A participant volunteered one approach that she heard about via

the Chronicle Webinar

: to require that students meet and socialize outside of class twice a month to work on "conversation fundamentals" – how to have a balanced conversation, how to use open-ended questions – to build "social sophistication and stamina" in in-person environments post-pandemic. 

Mid-semester surveys:

Two instructors distributed

mid-semester surveys to students

that specifically targeted issues of classroom engagement, and one queried participants about their time-on-task for assignments and activities. Though survey participation was low in one course, both instructors were reviewing and integrating appropriate feedback. 

 

Panels of former students:

One attendee noted that he had invited a panel of former students to talk about their experiences in the class and what contributed to their success. The credibility of the speakers and the authenticity of the guidance resonated with the current students. 

 

Strategic use of Learning Assistants or Course Assistants:

Some instructors in large or introductory courses used Learning Assistants or Course Assistants – undergraduate students successful in the subject area who are trained to provide in-class instructional support – to scale up instructional reach and feedback. These assistants had been particularly crucial in courses that needed more hands-on instructional support, structure, and feedback.    
Many instructors found themselves structuring tasks and activities for students that, pre-pandemic, may not have required direct guidance and direction. Given this need, the importance of student meta-cognition – knowing how to learn something – was raised, which resulted in the following suggestions:       
Using learning science data to persuade students

: One participant noted that her students were very responsive to research-based arguments. When she offered students evidence-based examples of effective ways to learn (she cited 

The Learning Scientists blog

as a good source of information), they responded affirmatively to these suggestions. Leveraging learning science research when suggesting better ways to study – retain, recall, and synthesize content – might be one way to help bolster meta-cognition. 

 

Building in self-reflection on effective learning approaches:

An attendee recommended integrating opportunities for students to self-reflect on the usefulness of teaching interventions, such as the one-course-meeting-a-week flipped classroom for starting homework. Such reflection on why a certain approach worked (in this case, in-class time dedicated to starting homework with in-person instructional feedback) may help students build (or re-build) their meta-cognitive muscles. 

 
The conversation turned to tools that could support both targeted in-class instruction and meta-cognition skill development. Brian Cole, Associate Director of the CTEI, said that he had been investigating different technologies that would enable real-time assessment of content comprehension and upvoting of particularly confusing content areas. Melo Yap, the new Sr. Educational Research Consultant at the CTEI, volunteered Kahoot as a tool that could offer such flexibility. 
 A faculty member suggested developing a toolkit with proven meta-cognitive strategies that could be inserted into the Canvas sections of each course. Instructors and students could access this toolkit on-demand and integrate into it their course design for both "just-in-time" support (e.g., before a high-stakes test) and more long-term development. The CTEI offered to collect any already-available guidance to help students learn more effectively in an effort to start collating this information in one place.  
Caroline Egan
Caroline Egan is a Project Manager in the Center for Teaching Excellence and Innovation, supporting instructional training and development for Hopkins faculty, graduate students, post-doctoral fellows, and staff.
Mike Reese
Mike Reese is Associate Dean of the Center for Teaching Excellence and Innovation and associate teaching professor in Sociology.
Image Source: Unsplash